Slug Gift Packs
Slug Gift Packs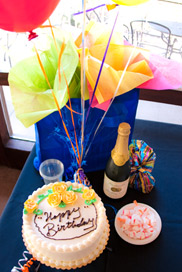 Whatever the occasion, a Slug Pack care package is a welcome gift.  And...much better than a tweet or a text! 
Please note: orders must be placed no later than one week prior of expected delivery date. 
Slug Gift Packs ($35)
This service offers a convenient way for families and friends to send a great treat to their favorite UCSC student or staff member. Slug Packs come in a reusable tote bag with a personalized card, and will be delivered to the student's (or staff's) closest dining hall for pick up.
Birthday Slug Pack (pictured)
Get Well Pack
Thinking of You Pack
Let's Go to the Movies Pack
Study Pack
Balloons available as an add-on to any pack

12 balloons $15
6 Balloons $7.50
Happy Birthday mylar $3
For more information or to place an order, call the campus catering office at (831) 459-4600 or email hospitality@ucsc.edu